Boodge Log, Siding & Deck Oil is the "Natural Choice" in WoodCare
At Boodge Company we think differently than most others because we believe that natural wood should be kept moisturized in order to keep it looking beautiful. Traditionally, manufacturers of wood protection products (especially ones with the word "seal" in the name!) believe that the ideal way to protect wood is to cover dead and dried wood with an extremely hard and resistant coating (paint) in order to seal out the elements and make it weatherproof.
At Boodge Company, however, we have found that wood lasts longer and retains its natural beauty when you treat it with products that replace natural moisture as if it were still living.
The creators of traditional weatherproofing products have great success when applying their sealants to manmade materials, such as plastics and metals, and they have inspired great technological advancements in paint coatings. However, because wood is a once-living, natural material, with imperfections and inconsistencies, it cannot be protected in the same way as the metal and plastic of cars.
So, that's where Boodge Company did some original thinking and formulating. We concluded that if hard drying surface coatings fail to protect wood, then why not use a product that can eliminate the typical problems associated with those coatings? So we developed our own solution that restores, preserves and protects the natural durability and beauty of natural wood siding, trim, logs, shakes, shingles, decking and fencing.
Why Our Products Work Differently and Perform Better
A signature trait of Boodge Log, Siding & Deck Oil is the extraordinary ability to replenish much needed moisture to wood in the form of a deep-penetrating oil. At the same time, it provides superior waterproofing and longevity while enhancing and prolonging the aesthetic beauty of natural wood.
If you have logs, cedar or redwood siding, wood decking or any other exterior natural wood surface, Boodge Log, Siding & Deck Oil is an outstanding way to ensure you will have beautiful and long-lasting results with a simple maintenance routine that will save substantial amounts of time and money for years to come.
Boodge Log, Siding & Deck Oil contains an essentially non-drying oil that migrates into wood cells through capillary action—just like water does. The photo at the right shows a siding board treated with Boodge Oil on the right (Semi-Transparent Weathered Gray) and you can see how the natural oil migrated into the untreated/dry wood.
We then couple the oil with UV blocking pigments and drying resins that form a surface barrier that both traps the oil in the wood, and helps keep damaging water out of the wood. As Boodge Log, Siding & Deck Oil soaks in, it minimizes the destructive effects of the expansion and contraction of wood that result from weathering (see photo below).
Because our products are truly deep penetrating, and do not form a hard-drying surface coating, you can easily maintain a natural wood appearance through subsequent applications. And unlike mineral or linseed oils, Boodge products are extremely mold and mildew resistant and will not turn black!
Boodge Log, Siding & Deck Oil™ Provides Unique Performance and Benefits
We start with deep penetrating oil that has the characteristic of wanting to migrate through capillary action into dry wood cells, just like water does.
Then we couple the oil with UV blocking pigments and drying resins that form a surface barrier that both traps the oil in and helps keep moisture out.
Boodge products remoisturize wood through capillary action
Boodge creates a barrier to moisture because the wood is filled with oil
Since oil and water repel each other, and our products attain deep penetration, they greatly reduce the destructive effects of contraction and expansion of wood when subjected to weathering.
Because our products do not form a hard-drying surface film, it is a relatively easy process to maintain a beautiful natural wood appearance through re-application.
Boodge products provide:
One Coat Coverage
Maximum Waterproofing via Ultra-Deep Penetrating Oil
Excellent Mold & Mildew Resistance (Boodge will not turn black like other plant-based oils)
Maximum UV Blocking
Your natural wood really can stay looking new with Boodge Log, Siding & Deck Oil!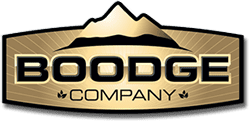 Boodge Company
5770 McIntyre St., Suite 4
Golden, CO 80403
Open Monday-Friday
by Appointment